ULV Cold Fogger DC20+ 2L Battery Operated
Our Price :

$945.25

$1,199.99
---
Using the latest in battery technology, the DC20+ ULV fogger has been specially designed to produce up to 45 minutes of continuous fogging time with only 2.5 of charge time.
Features include a 2 liter tank, advanced 12V DC motor from LG electronics, two speed control and an adjustable nozzle producing droplet sizes between 5 to 50 microns. Thanks to it's compact design, this fogger is ideal for spraying in smaller spaces including domestic properties as well as food preparation areas, car valets and offices. In addition, the power can be halved reducing noise levels, which is ideal for hospitals, nursing homes, and schools.
For use with All Purpose Cleaner Hypochlorous Acid
***SHIPS IN 3 WEEKS***
* All sales are final on emergency PPE items



Item #
Product
Price
Quantity
265-DC20
ULV Cold Fogger DC20+ 2L Battery Operated

$1,199.99

$945.25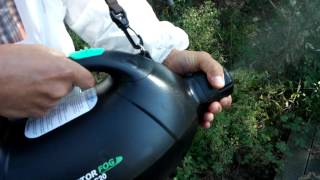 DC20 ULV Fogger
Merchandise must be returned in its original, unopened, unmarked packaging and have been purchased within the previous thirty (30) days. Any returns past thirty (30) days are subject to a restocking fee and/or rejection of the return.
Shortages or errors in shipments must be reported within 48 hours of receipt
Bulk items may be subject to a 25% restocking fee.
The following special, customized, or government-regulated items are not returnable:
Opened handpieces, small equipment, and custom-ordered equipment Special order items (products that we do not ordinarily stock) Personalized and imprinted items
Opened computer hardware and software
Rx Drugs
Controlled substances
Hazardous materials
Expired or short dated products
Items that cannot be returned to the manufacturer
Any items marked "Special Order"
Local anesthetics (Lidocaine, Septocaine etc.)