EnviroKlenz UV-C Air Purifier
Our Price :

$799.95

$899.99
---
The EnviroKlenz® Mobile Air System with UV Light combines Advanced EnviroKlenz technology for toxic and noxious chemical and odor removal with HEPA filtration and ultraviolet germicidal radiation (UVC) to remove airborne particulates and allergens and inhibit the growth of captured microorganisms (such as bacteria, mold, and viruses).
EnviroKlenz Air Cartridge is effective against toxic or noxious odors and chemicals through our proprietary "Adsorptive Neutralization" process.
The HEPA filter captures harmful dust, particulate, allergens, pet dander, microorganisms, and more.
UVC lamps are located before (and radiating on) the collection side of the HEPA filter. Unlike systems that depend on killing/inactivating the organisms as they pass through the UVC light in a very short period of time, the UVC light is continuously shining on the collected organisms with high efficiency of kill.
Indicator lights inform you when individual UVC lamps need to be replaced or when the HEPA filter is clogged with particulate buildup.
A four-speed blower offers the quietest and most efficient air flow on the market. The low Whisp-Air speed allows for silent operation. Medium to High speeds creates maximum air efficiency at noise levels suitable for residential and commercial use.
* All sales are final on emergency PPE items
Item #
Product
Price
Quantity
CV-UVF
EnviroKlenz UV-C Air Purifier

$899.99

$799.95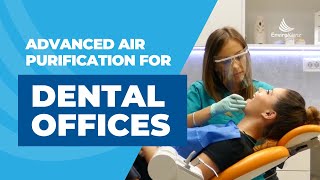 EnviroKlenz
Merchandise must be returned in its original, unopened, unmarked packaging and have been purchased within the previous thirty (30) days. Any returns past thirty (30) days are subject to a restocking fee and/or rejection of the return.
Shortages or errors in shipments must be reported within 48 hours of receipt
Bulk items may be subject to a 25% restocking fee.
The following special, customized, or government-regulated items are not returnable:
Opened handpieces, small equipment, and custom-ordered equipment Special order items (products that we do not ordinarily stock) Personalized and imprinted items
Opened computer hardware and software
Rx Drugs
Controlled substances
Hazardous materials
Expired or short dated products
Items that cannot be returned to the manufacturer
Any items marked "Special Order"
Local anesthetics (Lidocaine, Septocaine etc.)